Down Sleeping Bag – $10 per day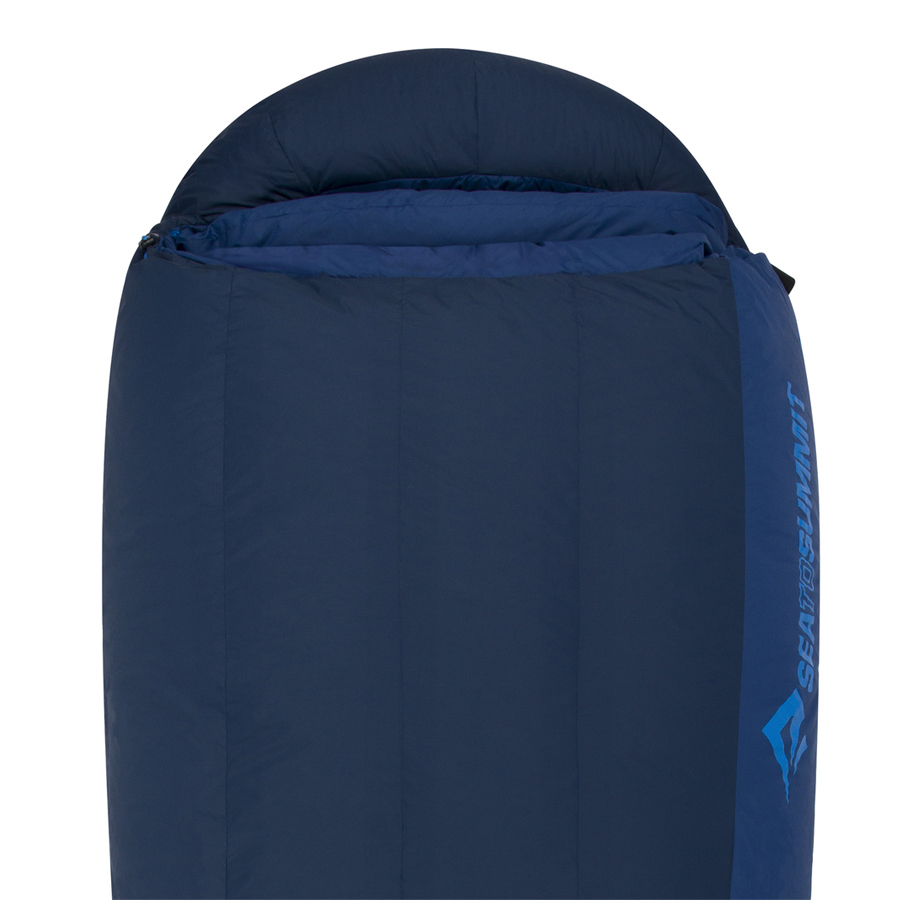 Sea To Summit awesome Trek III Down Sleeping Bag. (includes liner)

Vertical baffles over the chest section ensure the down insulation cannot migrate or shift to the outside of the bag during sleep, creating cold spots. A side block baffle construction maintains the 60/40 fill ratio, keeping more down on the top of the bag for maximum insulation.
Lightweight fabrics reduce weight and packed bulk while the two-way #5 YKK full length side zip and separate foot zip, allows the bag to open out completely and double as a quilt. The foot zip is perfect for extra ventilation or to provide freedom of movement for your feet.
The 3D side-wall baffle ensures that down can loft to the very edge of the bag, maximising insulation, while the panelled hood draws in tight when needed or lies flat for use in warmer weather. The oversized zipper draft tube uses anti-snag materials to prevent the zipper catching and the soft-touch 20D lining fabric is highly breathable yet also down proof.
Completing the thoughtful design features of this classic down bag, we have included a large internal security pocket, perfect for keeping valuables close or batteries warm.
Specifications
Shell 100% Nylon, Lining: 100% Nylon, Primary Filling Material: DUCK Down(Min. 85% Down, StFfsack: 100% Nylon excluding Trims,
EN13537 Temp Rating Comfort: -6C | 21F,
EN13537 Temp Rating Lower Limit: -12C | 10F,
EN13537 Temp Rating Extreme: -31C | -24F

SIZE VARIATION: REGULAR
RECOMMENDED USER HEIGHT: up to 183 CM
COMPRESSION SACK VOLUME (COMPRESSED): Medium (14 to 4.5) L
WEIGHT: 1190 G
FILL WEIGHT: 700 G
INTERNAL CHEST CIRCUMFERENCE: 152 CM
INTERNAL HIP CIRCUMFERENCE: 146 CM
INTERNAL FOOT CIRCUMFERENCE: 102 CM
Features
Tapered rectangular for more space and comfort than a traditional mummy bag
RDS 650+ Loft ULTRA-DRY Down offers excellent insulation and compressibility
Lightweight fabrics for reduced weight and bulk
Vertical chest baffles prevent down migration and cold spots
Two-way #5 YKK side and separate foot zip allows bag to double as a quilt and provides extra ventilation options
Oversized zip draft tube with anti-snag materials
Large internal security pocket
3D side-wall baffle maximises down insulation right to the edge of the bag
3D hood draws in tight when needed
Trek Tk3 has additional neck collar draft tube to seal and trap in all your warmth
Soft touch 20D lining fabric is lightweight and highly breathable, durable 30D Nylon shell
Includes Ultra-Sil Compression Bag for compact storage
Terms and Conditions
• All sleeping bags hired from Overland Track Transport require a deposit to be paid ($100 per Sleeping Bag). This payment is separate to the hire charges and is to be made as a separate payment. A payment request will be emailed to you for the deposit total for the hired items and this payment must be made with a credit card. Once items are returned to Overland Track Transport and inspected for damage, deposits will be refunded back to the same credit card used to make the deposit payment.
• All hired items from Overland Track Transport must be returned on the nominated date at Lake St Clair between 1:45pm and 2:00pm to our Overland Track Transport bus waiting in the car park at Lake St Clair. These cannot be left at the Lake St Clair Visitor Centre or Cafe. If for any reason the responsible person who has hired the items is not able to return the Hire Gear Items on the nominated date, a replacement price charge will be processed on the supplied credit card.
• Any damages (beyond reasonable wear and tear) will be photographed and emailed to the responsible person in conjunction with a full replacement price charged to the supplied credit card.
• If any Hire Gear Items are not returned to Overland Track Transport by the agreed date, a full replacement fee will be charged to the supplied credit card.