Source Convertube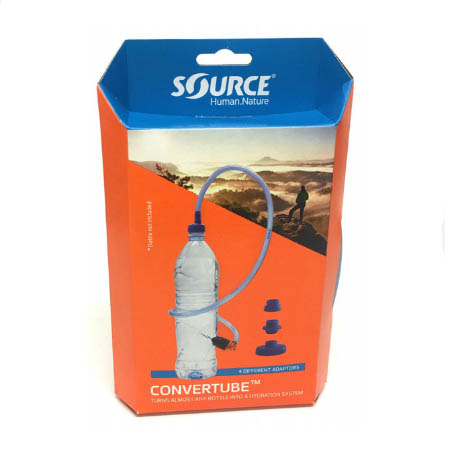 Handsfree drinking without removing the bottle from your backpack
When you are outdoors and active and probably need both hands, no more pulling the bottle from your backpack with the Convertube you can turn almost any bottle into a hydration system in three easy steps. The Source Convertube can quickly turn a bottle into an instant hydration system within seconds by using one of its four included adaptors and easy-to-use SQC tubing.
THe Convertube offers easily accessible hydration using a standard drinking bottle and one of its adaptors. Due to its intelligent design, there is no need to remove the bottle from your pack. Used around the world for active adventurers who do not want the bulk or weight of a large hydration pack.
Ideal for walking, running, hiking, biking, or when outside for hours, the Convertube Adaptor Set will become the best answer when using bottles as water sources when it comes to hydration. The Convertube connects to almost any bottle and lets you drink without removing it from your backpack.
The Convertube adaptors
Diameter adaptors: 26mm, 29mm and 63mm
Sigg
Nalgene(63mm)
Evian
Standard PET
Source Liquitainers
Features
Convertube screws onto almost any bottle
Kit contains 4 adaptors, a tube with Helix bite valve, and a Dirt Shield
Tube length – 94 cm (37 inches)
Inner tube length (inserted into the bottle) – 35 cm(13.7 inches)
Convertube Set-up
The kit contains four adaptors for four different bottle-neck sizes and threadings, and the standard 90cm drinking tube with Helix bite valve, protected thanks to the Dirt Shield valve protector from sand and mud.

How to use
Convert a bottle to a hydration system in three easy steps: after determining the size of the bottle's opening, thread the tubing through the adaptor's hole, and screw on the appropriate adaptor tightly so no water leaks. Access fluids through the Helix valve.
All adaptors, tube, and valve can be cleaned with warm, soapy water and reused.
This multi-adapter kit is designed to turn a drinking bottle into a hydration system with little effort while being an indispensable and integral part of your outdoor experience.
Source water bladder accessories are made for outdoor sport and recreation; whatever the condition, wherever you go, you can stay hydrated and safe.
Weight 143 g
LengthTube length – 94 cm | Straw length (tube inserted into the bottle) – max 35 cm