Hire Gear – Overland Track Pack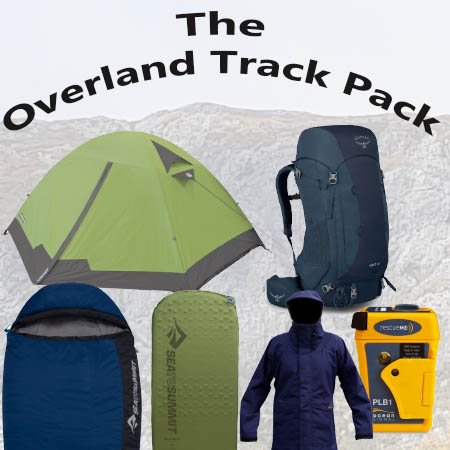 Our Overland Track Pack – Hire Gear package is ideal for anyone needing all the right gear to make the most of their Overland Track adventure. With years of experience in outdoor gear we have hand picked the best products to ensure your gear not only works well but is the perfect gear for any weather the Overland Track can throw at you.

Total package hire price for all items listed below are:
1 person package – $375
2 person package – $650 (sharing 1 tent and 1 cooking stove/pots, 1 x PLB per group)
3 person package – $937.50 ( 2 tents, 2 stoves/pots, 1 x PLB per group)
4 person package – $1200 (2 tents, 2 stoves/pots, 1 x PLB per group)

In this package we have teamed up not only the gear that we use ourselves on the Overland Track but the best from each manufacturer to put together the perfect kit.
For our hire gear package we have included the below (including some freebies for you)

Tent – 3 season, Pro Hiker 2 man tent (2.7kg)
Backpack – The awesome Ospray 65lt Volt including Pack Cover + Pack Liner (1.927kg + 280g)
Sleeping Bag – The trusty and toasty Sea To Summit Trek III Down Sleeping Bag (1.190kg)
Sleeping Bag Liner – The Sea To Summit Extender liner to add even more warmth if needed (248g)
Sleeping Mat – Sea to Summit 3.8cm Camp Mat SI (self-inflating). (780g)
Rain Jacket – Wilderness Equipment Deluge 3/4 length Tassie tough bushwalking jacket (900g)
Rain Pants – Wilderness Equipment Raindance overpants (520g)
Stove & Pots – 360 degree Furno Stove and Pot Set including Bowl/Cup/Long handled Spoon (551g)
Gaiters – Canvas gaiters – Bomb Proof (330g)
Headlamp – Black Diamond Astro 300 lumens (aaa batteries included) (54g)
PLB – A Personal Locator Beacon (1 per group) for emergencies and piece of mind (130g)

Freebies – Yes Please
Fuel – 100g of Jetpower stove fuel per person (199g)
Blister Prevention – 1 x packet of WonderWool per person (28g)
Ice Cream – 1 packet of Campers Pantry AMAZING Freeze-Dried Ice Cream per person (50g)
Total Weight: 9.9kg
Need Food?
Check out the Campers Pantry Overland Track bundle or Campers Pantry Overland Track Vegetarian bundle to get all your meals delivered straight to your door before you come the Tassie. Get 15% off the bundle when using your Overland Track Transport discount code received on your transport booking receipt.

For each package booked, we will personally deliver all items to your Launceston CBD accommodation the day/night before your trip with us and help fit, your pack and help with any questions you have regarding the gear. On return, simply give all items to your driver when we meet you at Lake St Clair for our 2:00pm departures.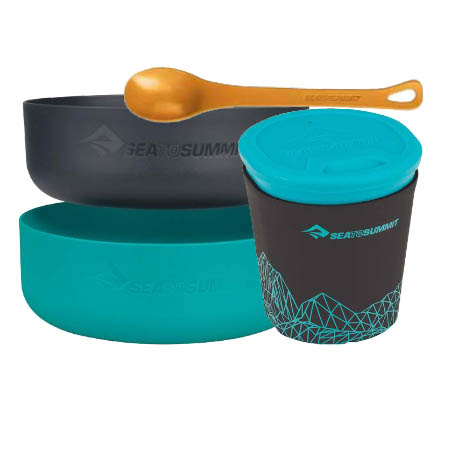 Kitchen Kit
Bowl, Cup & Spoon
Terms and Conditions
• Once booked, we will email you to gather sizes for the Jacket, Overpants and gaiters as well as the 2 x emergency contact details for the Personal Locator Beacon. All sizes charts can be found on each products page.
• All Overland Track Packs hired from Overland Track Transport require a deposit to be paid ($350 per Overland Track Pack). This payment is separate to the hire charges and is to be made as a separate payment. A payment request will be emailed to you for the deposit total for the hired items and this payment must be made with a credit card. Once items are returned to Overland Track Transport and inspected for damage, deposits will be refunded back to the same credit card used to make the deposit payment.
• All hired items from Overland Track Transport must be returned on the nominated date at Lake St Clair between 1:45pm and 2:00pm to our Overland Track Transport bus waiting in the car park at Lake St Clair. These cannot be left at the Lake St Clair Visitor Centre or Cafe. If for any reason the responsible person who has hired the items is not able to return the Hire Gear Items on the nominated date, a replacement price charge will be processed on the supplied credit card.
• Any damages (beyond reasonable wear and tear) will be photographed and emailed to the responsible person in conjunction with a full replacement price charged to the supplied credit card.